BLACK SOCIAL HISTORY Leslie George Hylton 29 March 1905 – 17 May 1955 was a West Indian cricketer, a fast bowler who played in six Test matches between 1935 and 1939 for the West Indies. He also played 40 first-class games for his native Jamaica.
Hylton debuted with four Tests in the 1934–1935 season, taking 13 wickets at an average of 19.3, but had to wait until 1939 before playing his next two Tests. In that trip to England, he added three more wickets to his career tally, and did not play in any more Tests subsequently.
Hylton is perhaps more well known for his death. In 1955, he was hanged for the murder of his wife, Lurlene. During his trial, Hylton claimed he had been trying to shoot himself but missed. As of March 2009, he remains the only Test cricketer to have been executed.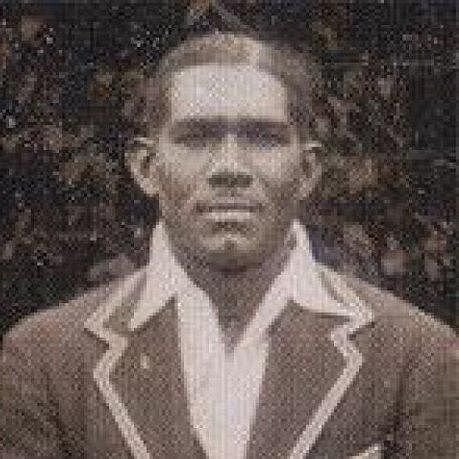 Save Hylton, hang Holt! the banner urged. The 1954/55 Australian tour to the West Indies had reached the Kensington Oval in Barbados and the West Indies opener, JK Holt had dropped two relatively simple catches after having amassed a string of low scores. Hylton referred to Jamaican fast bowler Leslie Hylton, who was convicted for the murder of his wife and was awaiting execution at the Spanish Town District Prison in Jamaica.
He made his debut on the
England
tour of the West Indies in January 1935 in Barbados. A rain-affected surface produced a rather strange game. England declared at 81/7 in reply to West Indies' score of 102, and Hylton returned flattering figures of three wickets for eight runs off 7.3 overs. He made 15 in the first innings, which was only exceeded by George Headley's 44. Hylton opened the innings second time round and top-scored with 19 as captain GC Grant, in a tactical move, sent in his tail-enders at the top. George Headley, the usual number three, went in at seven. Opener GM Carew never got a chance to bat in the second innings because Grant declared after just 19 overs with the score at 51/6. England won the game by struggling to 75/6 as captain RES Wyatt employed similar tactics by also rearranging his batting order. Hylton ended the series with 13 wickets in four matches at 19.3 runs per wicket.
Hylton did well enough to be chosen for the next tour, which was to England in 1939. By that time, however, his bowling had fallen off, and his two games only yielded a further two wickets at a cost of 55.56 runs. Hylton was never chosen again and so he retired and settled down to life in Jamaica in the civil service.
Sometime around 1940, he fell in love with Lurline Rose, the daughter of the island's Inspector of Police, who was not in favour of the match as he considered Hylton socially beneath his family. But the couple was persistent, eventually gaining the approval of her parents, and Leslie Hylton and Lurline Rose were united in marriage on October 6, 1942.
The marriage went well at first. By 1947 their son, Gary, was born and in the early 1950s Lurline relocated to New York to advance her sewing career. But trouble was lurking. It arrived in the form of an unsigned letter from New York on April 17, 1954, advising Hylton that Lurline was openly gallivanting with a popular womanizer named Roy Francis. Shocked and angry, Hylton sent his wife a telegram demanding she return immediately to Jamaica, and after resisting for a while she arrived in the island on May 2
nd
.
Hylton collected her at the airport and the couple seemed to have made up. According to the Gleaner, a Jamaican daily newspaper, "the matter was settled in true matrimonial form." On May 5, however, Hylton was on the verandah of their home when he noticed a worker leaving with a letter addressed to Roy Francis. Shortly afterwards, he hurried to the Post Office and beseeched the staff to hand the letter to him. Upon learning that they would not be able to accede to his pleadings he concocted a scheme: he would tell Lurline that he was aware of the letter and would be intercepting it the next day. Troubled and unable to sleep that night he awoke his wife and carried out his plan, whereupon she confessed, unleashing emotions that gushed from her like a flood:
Since you have been going to all this trouble you might as well know here and now, because I cannot stand the torture of the last few days anymore. I have written to him so what? I should have followed my parents' advice and not marry you. You are out of my class…Roy is a better man than you. I love him…Just the sight of you makes me sick. I cannot bear to touch you. I can't bear for you to touch me. I am finished with you.
They reportedly went back and forth for a while and Lurline, apparently, went as far as to expose herself to show Hylton what he would be missing.
This was too much for Hylton to take. There are different reports as to what happened next, but when the dust cleared, Lurline lay dead, the victim of multiple gunshot wounds.
The trial attracted huge crowds, many of whom seemed sympathetic to the former Test cricketer. Representing him were two highly regarded lawyers, Vivian Blake, and Hylton's captain when he played for Jamaica, Noel Nethersole. Good representation notwithstanding, the evidence against the fast bowler was overwhelming. Hylton gave evidence that he was actually trying to shoot himself and missed, but the jury found that hard to believe considering that the victim was shot six times.
The unanimous guilty verdict was handed down on October 20, 1954 and Hylton was sentenced to death. After exhausting the appeal process, the heavyset pacer was hanged on May 17, 1955. He remains the only Test cricketer to have been executed.