BLACK SOCIAL HISTORY First U.S. Black Woman Adjutant General, Brig. Gen. Mary J. Knight is in command
Mather Air Field, California remains a small aspect of the 35,000 acre Black Agriculture project of Historic Rancho Rio De Los Americanos, owned by William Alexander Leidesdorff, Jr. This is a fitting memorial site for the first female Black Adjutant General to assume command of the California National Guard. Brig. Gen. Mary J. Knight restores a long line of women military rulers since Queen Califia surrendered in battle to Spanish Conquistadors in 1535. California is named after the Black Farmer and Women Warrior Queen Califia.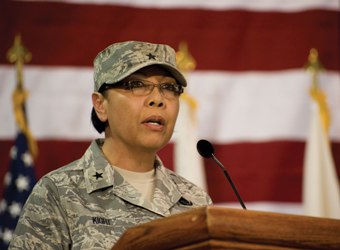 brig._gen._mary_j._knight...
First United States Black Woman Adjutant General
Brig. General Mary J. Knight Assumes Command

adapted from
Brandon Honig, Joint Force Headquarters Public Affairs

Mather Air Field, CA ~ Governor Arnold Schwarzenegger administered the oath of office to Brig. Gen. Mary J. Kight, the 45th adjutant general of the California National Guard, during a change of command ceremony at Mather Air Field, Calif., during Black History Month 2010.

Brig. Gen. Mary J. Kight assumed command of the California National Guard this month, breaking barriers for minorities and stepping into the shoes of a revered general.

Maj. Gen. William H. Wade II relinquished command Feb. 2 during a ceremony at Mather Air Field, Calif. Gov. Arnold Schwarzenegger named Kight the new adjutant general of the Cal Guard, calling her a proven, courageous, loyal and honorable leader.

"General Kight has been described as a strong leader, a hard worker, a pioneer," Schwarzenegger said. "Everybody who's served with her says, 'You're doing such an unbelievable job.' She says, 'I'm just doing my job.'

"Like General Wade, she will be a wartime leader and will face tough challenges," he continued, "but General Kight, I have confidence in your ability and leadership."

Kight is the first woman to serve as adjutant general of the Cal Guard; she formerly served as its first female assistant adjutant general. She is the first Black woman to serve as adjutant general in the United States.

"Mary, it has been my distinct honor and pleasure to serve with you during some of the most troubling yet most rewarding times in our Guard's history," Wade said. "You have been an outstanding assistant adjutant general, and I know you will make a great adjutant general. … Our guard, our state and our nation win with a true top performer like Brigadier General Mary Kight."

Wade oversaw a period of great change after taking command in September 2005. During his tenure the Cal Guard transformed from a strategic reserve to a globally deployable operational force. He also spearheaded a wide range of improvements in benefits and family care. Wade stepped down as adjutant general to become deputy chief of staff for operations, Joint Forces Command-Naples, North Atlantic Treaty Organization (NATO).

"General Wade, because of your passion for the Guard and [your] absolute belief in leaders at every level – both in the officer ranks and enlisted ranks – we have proven that we are always ready and we are always there," Kight said, referencing the National Guard's motto. "Members serving Joint Forces Command-Naples will learn in a short period of time that Major General Wade is a visionary leader, results-oriented, compassionate and sincere."

The day, however, belonged to Kight, who received numerous standing ovations from the crowd of more than 500 in attendance. Kight, who began her military career in the active duty Air Force in 1974, deflected praise of her unique achievements for minority service members.

"I heard some words before this ceremony about changes and some of the 'firsts.' But this is about us," she said. "This is about acknowledgement of the California National Guard.

"My mother always taught me, 'Do your job, mind your own business.' And I've always done that," she said. "I focus on service."

Kight added that her background includes Filipino, Native American and Spanish heritage as well. "So it's not so much, from my perspective, more opportunities for African-Americans, more opportunities for women – it's just that there are more opportunities [in the Cal Guard] for people overall."

Kight joined the Cal Guard in 1984 after serving in the active duty Air Force and the Nebraska Air National Guard. Among other duties, she has served as commander of the 144th Aircraft Generation Squadron, the 144th Mission Support Group and the 201st Mission Support Squadron's detachment for members on Title 10 status.

In November 2004, Kight became the assistant adjutant general for the Cal Guard's Air Division. Then in February 2006, she became the assistant adjutant general for the California National Guard, serving as Wade's top adviser.

"General Wade, thank you for your trust and your faith in me and mentoring me," Kight said. "The team that's here is a team that has already proven that we can respond to the call but also take care of our people and plan for the future. So we're set."

Sankofa is an ancient concept to go back into the past to connect yourself to the future.

Queen Califia and her native Californians