Ethel Ray Nance grew up in Duluth. She was 20 years old at the time of the lynching, working for the Red Cross in the northern Minnesota town of Moose Lake, which had been devastated by a forest fire. She recorded an oral history for the Minnesota Historical Society in the 1970s, and on that tape she remembered hearing the news of the lynching.Listen to her story.
(Photo courtesy of Minnesota Historical Society)
The memories fade, except among blacks
IN 1920, A FEW HUNDRED BLACK PEOPLE LIVED IN DULUTH,
clustered on the edge of town. Most of them came north because they'd heard there were jobs.
Ethel Ray Nance grew up in Duluth. She says black people here mostly kept to themselves, and kept quiet. In the 1970s, Nance recorded her memories for the state Historical Society. She says her father tried to start a local chapter of the NAACP before the lynching.
"But the Negroes said they weren't interested, and that he was trying to segregate them. They said, 'We have no trouble here in Duluth so we don't need an NAACP branch.' But after this happened, he had no trouble," says Nance.
The lynching jarred black people across Minnesota into action. Roy Wilkins was a student at the University of Minnesota. He went on to become one of the country's most respected civil rights leaders, directing the NAACP during the 1960s and '70s. In his autobiography, Wilkins says news of the lynching was an awakening. He writes: "I lost my innocence on race once and for all."
Newspapers fell silent about the lynching. It didn't make the history books. But black people in Duluth never stopped telling the story - quietly - after church, or over the kitchen table.
Several generations of black parents handed the story down to their children as a rite of passage. That's what Eddie Nichols did. On the night of the lynching, Eddie Nichols had barricaded himself and some friends in their house. They thought the mob might come for them. Years later, Nichols told the story to his sons. One them, Charles, is now 77, but he remembers when his father sat him down with his brother for a talk.
"And he told us we had to live the life we could, but know there were things below the surface that were going to affect us," says Nichols. "From time to time he and my mother would both drop little precautions like that, because we thought everything was rosy, but they said it isn't. The veneer is awful thin."
Charles Nichols' boyhood in Duluth might have seemed rosy, but when he became a teenager in the 1940s, he was afraid to even walk in some Duluth neighborhoods. When Charles Nichols took the streetcar to Gary, where most black people lived, he says he felt a twinge of fear as the car passed through Morgan Park. The U.S. Steel plant in Morgan Park employed a small number of low-paid black workers, which angered some of the white workers. Charles Nichols says black parents in Duluth warned their children never to get off the streetcar in Morgan Park.
"It was just an unwritten rule - you didn't do that. Unfortunately, the streetcar that went to Gary circled around through Morgan Park. My parents were always concerned that if something went wrong with the streetcar and we had to get off in Morgan Park, we might be in harm's way," says Nichols.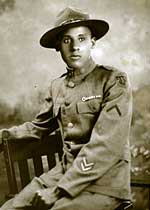 Eddie Nichols grew up in Duluth, and returned to the city after serving in World War I. Nichols said it was hard to come back to overt racism in the U.S. after experiencing greater tolerance in France. The Minnesota Historical Society recorded Nichols as part of its Black Oral History Project. Nichols talked about the day of the lynching. Listen to his story.