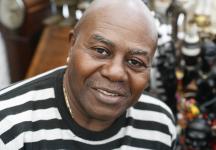 George Eleady-Cole began collecting black memorabilia thirty years ago. Over the years, his passion became an obsession. An ex-merchant navy officer now doing social work, George has never been able to spend a lot of money. Instead, he developed a sharp eye and bargaining skills as he scoured car boot sales and junk shops. "When I started prices were quite low", says George. "Now, they're much higher."
His collection was featured in an BBC Antiques Roadshow in 2007 and is scheduled to feature again in Autumn 2008. After the first outing, George was approached by several people who had black memorabilia in their attics or garages and were unsure what to do with it. "They didn't know whether it was politically correct to display their objects", he says. "In fact, they were glad when they heard about my collection and were able to give the stuff to me".
George's collection is almost certainly unique in its size and range. "I want to keep everything together for a while", George says. "But one day it may need to go to a proper museum. For now, I'm glad that it's online and people can see the objects and talk about them."
George does have another ambition. "I'd like to set up a social museum about black people and all the things which were produced. I'd like it to have material on the middle class blacks – aspects you never see. My grandfather was a very wealthy businessman. It's forgotten that there were well-to-do blacks. That side you never see. I'd like to have a picture gallery. Not just more about the slave trade, but black people working and succeeding, in Europe and America.
"In places like Gambia, Ghana, the colonies had well-to-do blacks. My father was working for a water company in Sierra Leone. Other relatives were working for the Ports Authority. There's a diversity of experience which is almost censored. The kids in shool and university don't see that. I had uncles who fought in the Second World War in the British army and were proud of the uniform. I had an uncle who flew Spitfires. I want that remembered, and shown, and people can make a judgement and draw their own conclusions."
Watch a lively video interview with George at home amongst his collection